I've said it before: many aspiring professional pilots have a skewed view of the profession. They have unrealistic expectations of the time and effort required to become a working pilot, and an overly rosy view of the pay and lifestyle that await them. In my opinion, these attitudes are fostered by the flight training industry. At a time when few people have contacts within the industry to set them straight, flight schools will promise these potential students the sky. There are many variations, but the general theme is this:
if you give us enough money, we'll put you on the fast track to the good life.
The following are advertisements in two recent issues of Flying Magazine. The thumbnails are a bit small; click on the pictures to see them close up. Let's do a little fisking, shall we?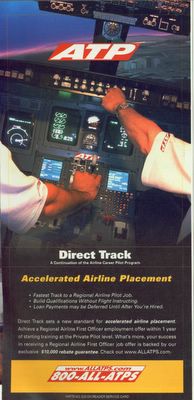 First up: All-ATPs. "Direct Track...Accelerated Airline Placement....Fastest Track to a Regional Airline Pilot Job...Build Qualifications Without Flight Instructing." Heh, God forbid that one should lower themselves to flight instructing to "build their qualifications." Of course...if you instruct, you get paid. This way you get to keep shelling out money to build those hours. Convenient how that works, no?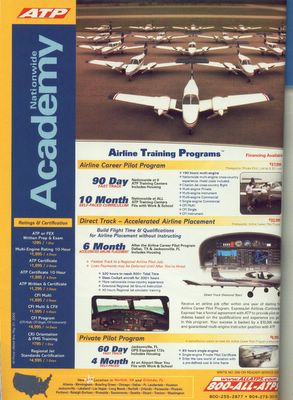 A slightly more illuminative ad from All-ATPs. Check out the incredible cost involved: if you start with zero hours, it takes $77,985 to do all three programs. This leaves you with your Commercial and CFI/II/MEI, plus 600 hours, 190 of which are multi-engine. That qualifies you for an interview with ExpressJet, making $19,800 your first year
if they hire you.
Funny how the ad doesn't mention that, eh? If
they
don't hire you, plan on keep shelling out money to get yourself to around 1000 hours - or,
gasp
, do some instructing so you actually have an aviation job on your resume before you interview with another company.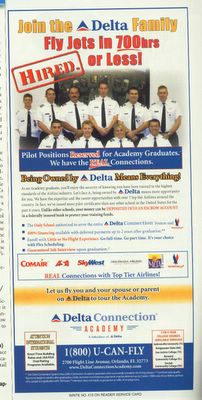 Ooh, it has the Delta logo on it! Everyone knows that Delta pilots make a ton of money! Heh, perhaps with Delta in bankruptcy they'll redesign this ad next month. Like ALL-ATPs, Delta Academy guarantees a job interview - in this case, with Comair, ASA, American Eagle. etc. What students don't realize is that these airlines hire less than half of the applicants they interview. The airline is simply agreeing to spend a few hours with Acadamy grads, talking and giving them a sim ride. They can then offer a job offer, or not, and the school's obligation is complete.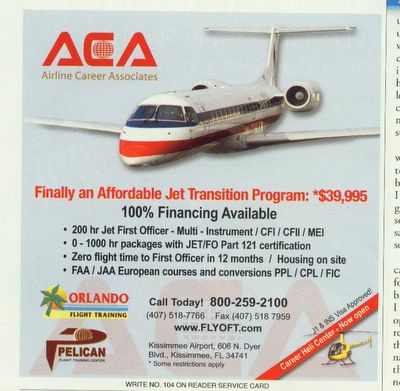 Besides the interesting concept of affordability, a few things jump out of this ad from Orlando Flight Training. 200 hr Jet First Officer? Are they completely mad? There is not a commercial jet FO is the world with 200 hours. Not one. And "Jet/FO Part 121 certification?" There is no such thing. Under FAR 121, you are qualified in equipment by your airline after they hire you. Even if you have a type rating, you are not Part 121 qualified until you complete that airline's approved syllabus. So basically they used terminology that, while incorrect, is calculated to make a young pilot's drool reflex kick in. Jet! FO! Part 121!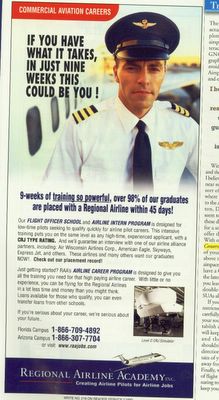 This could be
you!
In just
nine
weeks! Standing proudly next to a real jet airplane in snappy uniform, epaulets, and spiffy hat...the dude that guys wanna be and girls wanna be with! All because your nine weeks of training were
so powerful.
Seriously, this RAA ad is pretty disingenuous with it's claim that your CRJ type rating will "put you on the same level as any high time, experienced applicant." All things being equal, most regionals would far prefer a 2000-hour guy with multi-engine Part 135 experience to a 500 hour kid with a CRJ type rating. I also got a chuckle out of this ad's reference to "that high paying airline career."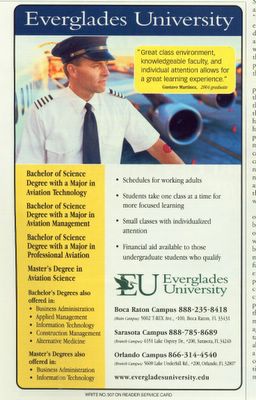 This isn't a deceptive ad, I'm just amused that the model from the RAA ad is apparently a 747 captain this time!
My all-time favorite, straight from PanAm International Flight Academy. "Airline Pilot Careers: Fast, Flexible, and For Sure." Excuse me?!? Do they
believe
that? An airline career is
none
of those things! It's seldom fast, particularly if a major airline is the intended destination. It's often a very
inflexible
job. And
For Sure?
Are they stark raving mad? Tell the thousands of furloughed pilots on the streets that this career is
for sure.
Tell the pilots whose careers were ended by accidents, enforcement actions, and denied medicals. Tell the flight instructor who's barely making enough money to live on and can't seem to get a lucky break.
Fast, Flexible, and For Sure.
I hope none of their students actually believe that, because they are being set up for disillusionment and failure.
Jeeze, it's not even a very good alliteration.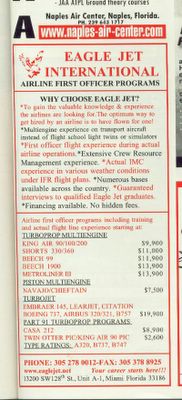 Of course, your career will be considerably more
for sure
if you don't expect to be paid for your commercial flying; even moreso if you
pay
to do it. Enter Eagle Jet International. You, too, can be a first officer on a Beech 1900, flying freight in godawful weather at all hours of night...for only $13,900 out of pocket! But hey, at least you won't have to flight instruct.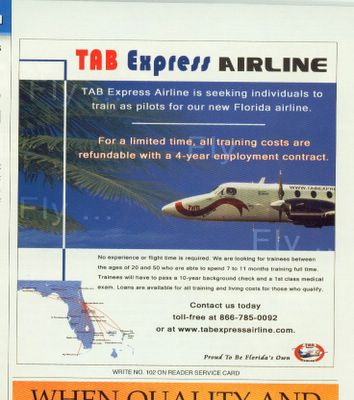 Our final entry, from the late, great, TAB Express. This was another "pay-for-your-job" outfit, with the additional "enticement" of four years' indentured servitude. Either this ad was placed much earlier, or TAB is absolutely shameless, because the venture closed down some time before this ad appeared, before the "airline" flew a single revenue flight. They took a lot of people's money with them, including the deposits of some folks who hadn't even started training. Such are the risks of trying to buy your way out of demeaning jobs like flight instructing, jump flying, banner towing, freight haulting, etc.
Okay, that's enough for tonight. I could go dig up some old "Flight Training" magazines for some real doozies, but you probably get the idea. It's disheartening to see the dishonest way that many flight training organizations sell the airline pilot dream. To be sure, many of these schools have good programs that've helped capable pilots achieve realistic goals. At the same time, though, they've pumped out a number of starry eyed greenhorns who expect a high paying jet job to immediately fall into their lap, and it usually just doesn't happen that way. For that matter, when they
do
get the job, it's seldom what they expected once the initial glamour wears off.
I know I'm running the risk of sounding bitter with this post. I'm not; despite the perils of this industry, I'm glad I chose this career. I do think, however, that a realistic outlook has made the rough patches that much easier to overcome. And that's part of the reason for this blog: to inject a little realism into aspiring pilots' plans, to provide a counterbalance to the marketing hype. In the next week or two, I'll be posting about the various paths to an airline career, and some of the struggles and pitfalls along the way. Hopefully it'll be useful information to anybody considering a flying career, as well as interesting for those smart enough to stay away but curious enough to read about it!